Best RV Transportation Service & Company serving Orange County, Los Angeles, San Diego & San Francisco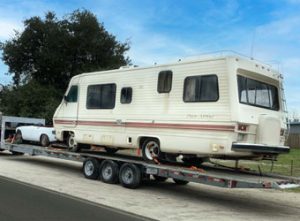 Are you looking for a RV transport service in Orange County, Los Angeles, San Deigo, and San Francisco within California, and Neveda or Arizona? You are at the right place. Cali Transportation specializes in moving RV's of all sizes, be it small travel trailers to large motorhomes.
We have a team of experienced drivers and the best and latest equipment to move your RV safe and secure.
Whether you need your RV relocated, transported, and or towed Cali Transportation can safely get your travel trailer to its destination in a timely manner.
Our RV transportation process
As an experienced and professional RV transport company in California, we follow the best process in transporting your RV domestically or over long distance
Step 1: Pickup
Once the pickup date and time is confirmed, our driver will come to your location at the agreed time. Our team will then carefully load the RV to our truck. While loading the RV, we will ensure that it is safely tied down, and the RV will be loaded using the specialized equipments.
Step 2: Transport
After loading the RV safely, we will then transport the RV to the agreed destination. While transporting the RV, we will drive safely and avoid any hazards or obstacles on the road.
Step 3: Delivery
After reaching your destination, our team will safely unload the RV and ensure that it is safely delivered.
How much does it cost to transport RV?
There are several factors that determine the cost of transporting the recreational vehicle. The factors such as distance to travel, the size of the RV and the type of transport chosen decide the cost of transporting the RV.
If you are transporting the RV locally, say within California, it will cost much lesser than transporting your RV to another state or across the country. Also, larger RV's require specialized transportation and this will cost more.
Also other factors like the time of the year and availability of the transport will affect the transportation cost. If you are planning to transport your RV during holiday, the cost will be more as the demand for moving RV during holiday season will be at its peak.
To get the accurate cost of moving your RV, kindly contact us now.
Why choose us to transport your RV within California and across the country?
Cali Transportation provides fast and easy recreational vehicle transport within CA, NV, and AZ.
When booking provide us with: the recreational vehicle information that will be transported, location of pick up and drop, time of pick up and drop off, and contact information of who will be releasing and receiving the RV.
The vehicles are mounted onto specialized shipping flatbeds made for transporting and hauling RV's, fifth wheels, or travel trailers.
On the pick-up and drop off date an initial inspection will be made this will include: mileage, pictures of any prior scratches/damage on your recreational vehicle, and Bill of Lading.
We provide an easy, fast, reliable RV transportation. Our transporting pricing is matched accordingly to where you need your recreational vehicle transported i.e. San Diego, Los Angeles, Las Vegas, Phoenix etc. Having your travel trailer transported will save you time, money, and worry.
Apart from RV transportation, we also offer automotive towing, limousine transportation, motorcycle transportation, heavy equipment transportation, and 8 car hauler trailer
Here at Cali Transportation we guarantee great RV transportation results. Give us a call today to coordinate a specific date and time that is convenient for your recreational vehicles transportation.
Provide us with all the information we need to know regarding your travel trailer for an instant quote. We look forward to fulfilling your RV transportation needs!